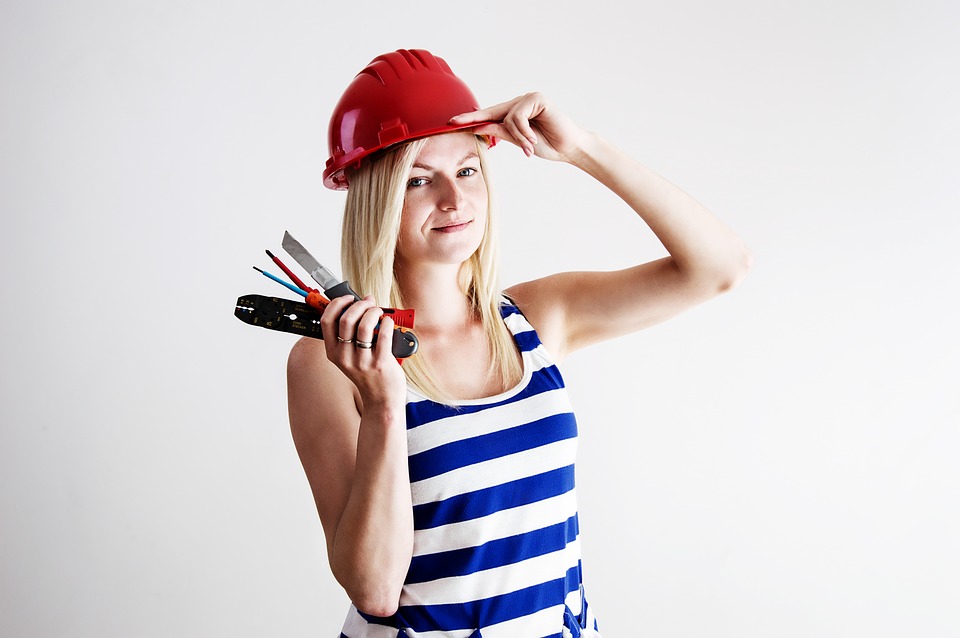 Lots of us enjoy whiling away an hour or three watching those shows on HGTV that involve an attractive couple buying a house, spending what seems like a few hours (or days) making some repairs and upgrades here and there, then either moving into the home of their dreams or flipping it for some serious cash profit. And if you're going to fantasize about some aspect of homeownership, you could do a lot worse than creating your own private castles in the clouds that you help build and finish all on your own.
That said, the reality behind buying a fixer-upper is a lot starker and more difficult than what you see on HGTV. There are more buyers than ever who are hoping to create their perfect fantasy home out of a fixer-upper, or who think they can flip a house just like those attractive couples on television -- and some of them discover they're wrong only after hundreds of hours and thousands of dollars have been spent, never to be recovered. To make sure you're making the right decision and following a realistic plan with your fixer-upper, educate yourself about the following realities and necessities of buying a home as-is, whether you plan to fix and flip it or turn it into a gorgeous residence where you'll be happy for years to come.
What's your plan for the fixer-upper?
People tend to buy fixer-uppers for two main reasons: They want to try their hands at fixing and flipping a house, possibly exploring this kind of investment as a new career path, or they'd like to buy a house for cheaper than average in a certain neighborhood that they can polish up and live in. Regardless of which path you want to take, there are some other details you'll need to plan before you start shopping.
Where are you going to live while this to-be-purchased house is being renovated, for starters? Whether you want to flip the house or turn it into your own primary residence, decide if you can stand living in a house that's undergoing some serious changes or if it might make more sense for you to maintain a separate residence while the house is being transformed. The second option is obviously financially prohibitive for some people, but maybe you can get creative -- do you have friends or family who might be willing to let you crash in a spare room while you're working on the fixer-upper, for example?
If you do want to live in the home while it's being fixed up, then you might need to truncate your timeline for some of the repairs. Living in a home where all of the bathrooms are off-limits at once due to simultaneous renovation is not really feasible for most of us humans, and you might want to remodel your kitchen step-by-step instead of doing it all at once if the idea of living off of take-out or soup heated up on a hot plate is enough to make you twitch just thinking about it.
Would-be investors who are hoping to make a profit from their fixer-upper already know that it's critical to get the math right -- if you spend too much on the house itself, or on any of the repairs, then your profit will evaporate, and you never know what's going to happen to the real estate market months down the road. Getting those repairs done quickly will be important, but you can almost guarantee that your planned schedule and budget for fixing up the house are both going to get derailed by at least a little bit before all is said and done (more on that later).
If you want to live in the house, then your timeline for getting everything done is more flexible, but you still need to be very clear about how much money you're able to spend on the house, and what the major repairs will entail in terms of financing. You don't want to run out of money mid-renovation and find yourself living among plastic sheeting and torn-up floors indefinitely, with no end in sight.
Take a good, unblinking look at your financial situation and figure out what you could potentially pay for a fixer-upper and how you're going to handle the expenses of the actual fixing-up that you'll have to do. There are a number of mortgage loans available that factor in renovation and repair costs for fixer-uppers; your mortgage broker should be a good source of information for which of those loans is best for you (if any), and a financial planner can help you figure out a good budget and timeline that will work for your household. (But before you set either that budget or timeline in stone, talk to a contractor to figure out if it's realistic -- if not, go back to the drawing board!)
Be willing to pitch in ... and honest about your abilities
Fixing up a house is cheaper if the homeowner is willing to help with at least some of the repairs, so ask yourself how much you might be able to help -- and don't overestimate your ability to get the work done. If you aren't a contractor yourself and don't have experience with repairs or renovations beyond a little painting and maybe changing a light bulb here and there, then it's absolutely unrealistic to expect that you can tackle major structural issues, plumbing problems, or electrical nightmares.
There probably is quite a bit you can do yourself, though, from replacing light fixtures to painting or wallpapering rooms, or even refinishing wood floors yourself. YouTube can be a wonderful resource for figuring out how to do these things, so watch some videos and get a sense for what you might be willing and able to tackle yourself, and what's probably beyond your scope. When in doubt, opt to hire a professional -- it's probably going to cost more in the long run if you try and fail to fix something yourself, and only then decide to bring in the pros. You'll be much better off if you can be honest with yourself about what you can and can't do and err on the side of "this looks beyond my current abilities" after you've watched a few videos and educated yourself about the process.
You can change a lot of things about a house, but one thing that is downright impossible to adjust is where it's located; you can't pick it up and move it to a different lot without spending a lot more money than you're probably willing to invest. Homes near a landfill, in a crime-ridden neighborhood, or located in poorly performing school districts are likely not going to be a great investment unless something well beyond your control happens to change the surroundings completely, so prioritize location when you start shopping for your fixer-upper. By the same token, waterfront homes, homes near national forest or parks, and homes in proximity to other desirable landmarks or features might be perfect choices even if you think the repairs are going to be extensive.
That said, unless you're willing to tear a house down and rebuild another one in its place, don't go overboard just because you love the location or the lot -- some things, like extensive mold problems, are so expensive to fix that if you don't want to deal with a tear-down, you should skip it even if you love the location.
Popular is better when it comes to bed/bath count
Some of the more difficult home renovations include adding a bedroom or a bathroom (more on those later), so if most of the homes in the area have three bedrooms and the fixer-upper you're eyeing only has two, it might not be worth your time to try to flip that house, and if you buy it with plans to live there, be aware that its resale value is likely going to be below neighborhood averages. On the other hand, if the fixer-upper has four bedrooms and the neighborhood standard is three, then it might be worth it to buy that house just because an additional bedroom will make it an upgrade compared to the rest of the area once you're finished fixing it up.
If you're not sure what's common in the area where you're looking, a real estate agent, a general contractor, or even your county records office can be good resources for determining what's popular and what's an outlier.
Looking past cosmetic problems
There are two main types of fixer-uppers that you'll see on the market. One is an ugly house -- and ugly can be fixed! -- but the other should be strenuously avoided if at all possible: The tear-down. Unless you're a contractor with years of experience and lots of confidence in your abilities, a house that requires a significant amount of work is going to cause you more headaches than it's worth, especially if it's your first time buying a fixer-upper.
That said, if you can look beyond the obvious cosmetic issues to see the potential in a home, then you can often find a great deal that can be relatively easily transformed into a dream property. Old or outdated carpeting, shabby cabinets, peeling paint, ugly light fixtures, and other items like that are usually easy fixes, although they can be real deterrents to buyers who are looking for a move-in-ready home.
Another thing you'll want to consider as you shop fixer-uppers is the layout. An intuitive layout that flows from room to room and is easy to navigate might be a good house for you to make an offer on, assuming there are no major issues that will be prohibitively expensive. Do the windows capture plenty of natural sunlight? Are the kitchen close to the dining room and the living room? How are the bedrooms placed in relation to each other and in relation to the bathrooms? Knocking down walls and significantly changing the home's layout is usually beyond the abilities of most fixer-upper buyers, so finding a house with a layout you can work with and don't assume you can fix layout issues easily unless you've talked to a contractor you trust who can shore up your assumption.
Fixing up the fixer-upper: Easy or difficult?
As mentioned, there are some repairs or upgrades that will be easy for you to tackle on your own, and some that are going to require professional help -- or that might simply be too expensive for you to include in your budget. How do you know which one is which? If you're not sure what comprises an easy fix and what counts as difficult, talk to a contractor and get their opinion, but there are some general rules of thumb that you can use when you're evaluating a fixer-upper for sale.
Easy fixes include patching and painting walls, or adding wallpaper to them; replacing carpet, laying tile, or refinishing wood floors; replacing light fixtures or fans; fixing or adding trim and baseboards to rooms; fixing broken window panes; replacing doors; replacing or refacing kitchen cabinets; adding a deck; and painting the exterior of the house -- although there are more repairs and upgrades that you might feel confident tackling yourself, depending on your experience and ability levels, so don't consider this a comprehensive list.
Difficult fixes include adding a garage or another room to the house, especially if you're not simply putting up a new interior wall but instead are adding square footage to the building; full bathroom and kitchen remodels; replacing or adding heating, cooling, or ventilation systems; fixing foundation problems; replacing plumbing, sewage, or electrical systems; replacing the windows in the house; and pouring concrete outside in driveways or to fix sidewalk or walkway cracks.
Figure out where you can add and conquer
The best time to tack on an additional task when fixing up a house is when you're already working on the same room, wall, or area. For example, if you need to replace the insulation in one of your outdoor walls and also want to add a picture window, tackling both of those projects at the same time will save you money and time. Add shelves in your kitchen cabinets while you're also refacing those cabinets. Replace the sink in the kitchen when you redo the countertops. Deciding where you can add projects here and there will help you get to the final desired result faster and will actually minimize the amount of time that the home is under construction.
Extra inspections are worth it
Before you reach the closing table on your fixer-upper, negotiate extra inspections with the seller so that you are absolutely clear on what you're getting into and what will need to be done. One example is a pest inspection: Although your inspector will look for evidence of pests as part of the general home inspection, a pest inspection is more thorough and can help you determine how extensive (if present) the pest problem might be. Older or more deteriorated homes can also benefit from a sewer line inspection and a roof certification so that you can get a good sense of whether you'll need to replace either of those high-dollar items before you acquire the home as your own.
If you want to dig a pool in your backyard, you don't want to discover that the house you bought isn't zoned for pools after it's yours, and you definitely don't want to discover that the addition or change you made to your house isn't zoned in your area when you're getting ready to sell the place; one way to avoid those circumstances is to spend some time researching appropriate permits in the city or county where the house is located. Figure out how much those permits cost and what's involved or included so that when the time comes to actually make those repairs or upgrades, you're fully ready -- and certified and permitted -- to do it.
Save money on fixtures ...
When it comes to faucets and sinks, bathtubs, toilets, lights, fans, and other similar fixtures for your house, you'll probably discover that there's a range of prices available -- and that price range might vary for the exact same product at a home warehouse chain if you look at a different location. Shopping around for fixtures to find the best deal can often save you money if you're willing to do the legwork to figure out where you can get the brand you like best for the least amount of cash.
... But it usually pays to splurge on materials
You might be tempted to cut corners when it comes to materials for your house, such as insulation, wood trim, siding, or other materials you might need to complete the projects on your list. But if you can, it's usually worth it to pay for the mid-range or more expensive versions of the materials you're considering; they typically last longer and have fewer problems than the lower-range versions, and it's pretty frustrating to have to repair something you renovated not that long ago just because you wanted to save money on materials.
Decide where you can (and can't) compromise
You might need to make some decisions about what aspects of your dream home (or dream flip) should be sacrificed when push comes to shove, so it's worth your time to determine upfront whether you absolutely have to have a certain feature or whether it's negotiable. Maybe you really want a certain kind of kitchen countertop but are less sold on the oh-so-popular farmhouse sink, or vice versa -- or maybe you really want a luxurious shower experience and are less concerned about the bath, or if you even want a bathtub in the property. If you'll be sharing the home with other household members, get their input as well, and decide together what's on your list of must-haves and what's more of a nice-to-have, so you know what needs to go if you end up having to make a one-or-the-other decision at some point during the renovation process.
Find reliable, capable contractors
A good contractor -- or a bad one -- can make or break your home renovation experience. If you spend a lot of time researching just one aspect of your home renovation, it really pays to make sure that single aspect is the contractor who will be overseeing the work that needs to be done and that you can't tackle yourself. Get referrals from people you trust, look at online reviews, check references, ask to see photos of past projects, and do whatever you can to ensure that the contractor who ends up being your go-to is good at what they do, shows up when they say they will, communicates well, and is transparent about the cost of their work. It will be the best decision you can possibly make around your fixer-upper.
Be prepared to go over budget and past schedule
Even the best contractor can't predict all of the possibilities that could derail a home renovation or repair project, so it's up to you to be realistic about both your budget and your schedule, especially for major endeavors like adding a garage or a full kitchen remodel. Understand that the work might cost more than projected and could take longer than estimated -- plan on it, in fact -- and then you won't be unduly shocked if that ends up happening, and might wind up pleasantly surprised if everything goes according to plan.
Many buyers dream about fixing up a house, but it's not a project for the faint of heart. You can be one of the buyers who actually do it if you're willing and able to plan for all contingencies and do your research upfront, whether you want to fix and flip or renovate a house from a nightmare property into your dream home.